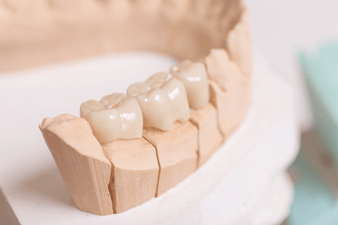 Dental implants are an excellent restorative treatment option for patients with missing teeth; however, they are not for everyone. If a patient is at an increased risk of implant failure and the dentist determines the patient does not qualify for dental implants, patients might choose an alternative to dental implants. In most cases, a tooth-supported, fixed dental bridge is the most preferred and best alternative to dental implants.
How It Works
With a fixed bridge, the teeth on both sides of the gap are crowned. These teeth, also called abutment teeth, serve as anchor teeth for the false replacement tooth (i.e. pontic) in the middle. A fixed bridge is cemented into place, thus can only be removed by a dentist. Placing a fixed dental bridge may require several dental visits and involves the following steps:
1. During your first visit, your dentist prepares the teeth on either side of the gap.
2. An impression is made of your teeth and the gap and sent to a dental laboratory. Laboratory technicians make a fixed bridge from either gold or other precious alloy, porcelain, or a combination of metal alloy and porcelain for a natural look.
3. Your dentist will place a temporary bridge while you are waiting for the permanent bridge.
4. When your permanent bridge is ready, you may have to come to the dentist one or two more times to get your bridge fitted, adjusted, and cemented into place.
Advantages
There are several positive effects of fixed dental bridges, both functional and aesthetic. In terms of function, fixed dental bridges are fully fixed in your mouth, so they won't slip out while eating or chewing. Thus, no food or drink is completely off-limits with fixed dental bridges. Wearing a fixed dental bridge will also help resolve the speech issues caused by tooth loss, so you can speak more clearly.
As far as aesthetics is concerned, our dental lab technician can craft a dental bridge from porcelain, making it look very natural to your own teeth. Furthermore, if the abutment or supporting teeth are deteriorated or oddly shaped, the fixed dental bridge can improve their appearance. This can help restore your smile and boost your self-confidence. The fixed dental bridge can also prevent teeth from shifting toward the open space in your mouth, created by missing teeth.
Other advantages of fixed dental bridges is that they are more comfortable, easy to adjust to, and easier to maintain (i.e. do not need to be taken out to clean) compared to other restorative options like dentures. The fixed dental bridge procedure is very straight-forward and can be completed within a few weeks, unlike dental implants procedure, which takes a few months to complete due to a three to six-month healing period.
Disadvantages
Along with their advantages, there are also some disadvantages of fixed dental bridges to be aware of. Fixed dental bridges are a good option only if you have a few missing teeth. Also, unlike dental implants, a fixed dental bridge is not self-supporting, it relies on neighboring teeth. The tooth structure of supporting neighboring teeth (abutment teeth) is ground down to place the dental crowns which may involve removing healthy, disease-free tooth structures of the supporting teeth. Furthermore, the replacement tooth may put extra stress on the supporting (abutment) teeth, increasing the risk of infection and decay on these teeth.
Another disadvantage of a fixed dental bridge is that the bone underneath the replacement tooth is not stimulated like with dental implants and will deteriorate over time, affecting the appearance of your smile. Greater maintenance and care are also required for dental bridges. Thus, dental bridges are not as long-lasting as dental implants and would need replacement after five to fifteen years.
Other Options
Aside from fixed dental bridges, other restorative options are also available. These include cantilever bridges, Maryland bridges, full mouth dentures, and removable partial dentures. The optimal solution will depend on your unique case, and all the advantages and disadvantages will need to be weighed in the decision-making process. If you have missing teeth and would like consult with us on restorative options, please contact us at (925) 705-7093 or request a consultation online.
Relevant Readings
Are You A Good Candidate For Dental Implants?
Dental Implants - 7 Common Questions Answered