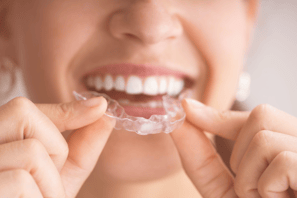 Smile Direct Club is a trending new service, which provides clear aligners to straighten teeth without having to visit the dentist. The aligners appear similar to those made by Invisalign and are offered for a lower price. Although Smile Direct Club may sound appealing, there are important factors that a person should consider before joining the club.
1. Aligner attachments
Although both aligners look similar, the main difference is that Invisalign aligners have attachments. The attachments are placed on your teeth by a dentist at the beginning of the Invisalign treatment. Depending on the size and where the attachment is placed, they help move the teeth in the desired direction. Without these attachments, there is a chance your teeth will move to an unfavorable and unpredictable position.
2. Dental impressions
In order to receive Smile Direct Club aligners, the first step is for the patient to take impressions of their teeth and send them to Smile Direct Club. Although this may seem like an easy task, there is a reason that dentists and dental assistants take courses and practice to get the impressions right. Without X-rays and a dentist physically examining your mouth, there is no way of knowing whether the impression is an accurate representation of your teeth. A faulty mold may lead to an unfavorable final result.
3. Types of cases treated
Invisalign is able to correct mild to complex problems, such as crowding, abnormal spacing, gaps between teeth, and bite malalignment. Smile Direct Club, however, only treats very minor cases, such as gaps between teeth and teeth malalignment. A dental evaluation is highly recommended to determine your specific needs and case complexity.
4. Diagnostic process
In order to get approved for Smile Direct Club, the patient's mold needs to be approved to make sure their case is not too complex. However, there are other oral health factors that the Smile Direct Club fails to consider prior to approving treatment. First, it does not require X-rays, thus bone loss and wisdom teeth positioning cannot be evaluated, both of which may affect long-term results. Second, the patient is not required to be cavity free prior to starting treatment. This is a recipe for disaster as any restorations during treatment will alter the shape of your teeth and hinder your smile results.
5. Treatment oversight
With Smile Direct Club, while an assigned dentist does oversee your treatment through tele-dentistry, the check-ins are about every 90 days. A lot of tooth movement can happen in three months and, if there are any problems (e.g. bite misalignment) your virtual dentist would not be able to catch it on time. With Invisalign, your dental office visits are every 4-6 weeks, where the dentist can examine your mouth, teeth movement, and bite, and intervene, if necessary. Furthermore, Invisalign allows you to choose your own, trusted dentist.
Before committing to a treatment, we strongly recommend that patients come in for a dental evaluation. To make an appointment to discuss your smile concerns and teeth straightening options, please call our office (925) 705-7093 or request an appointment online.